Simeron Guillotine Blades Manufactured in the UK and Shipped Worldwide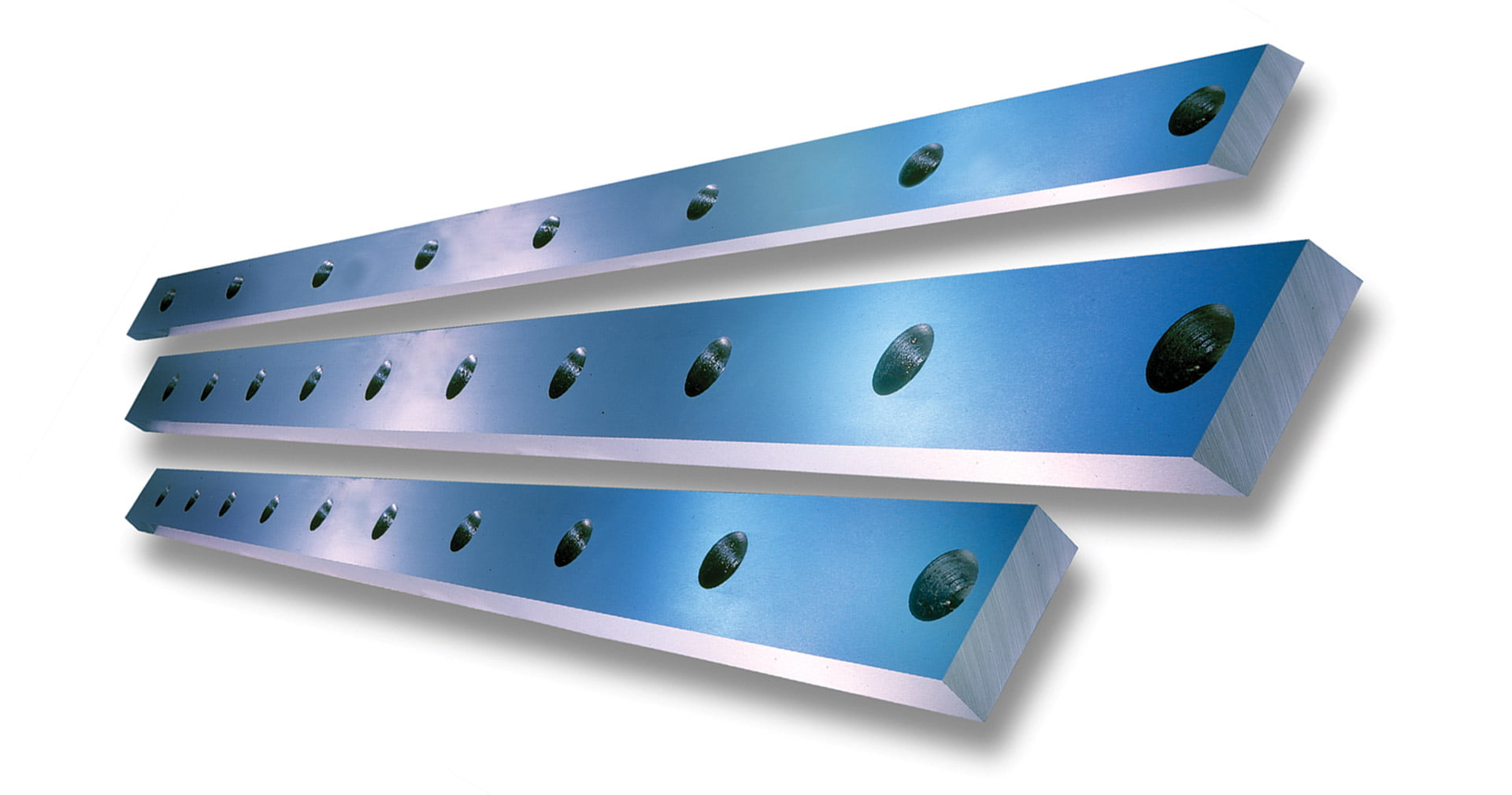 Looking for Simeron Guillotine Blades? Then you're in the right place! Here at Sheffield Gauge Plate, we manufacture a range of high-quality steel products, including Simeron Guillotine Blades. Our years of experience and knowledge in manufacturing tool steels and machine blades means you can be confident in our product range.
Thanks to the nature of the tasks they perform, it's inevitable that guillotine blades will blunt over time. However, once this happens, your projects grind to a halt. We know how vital your guillotine machines are to your everyday operations, which is why it's regular to carry out regular maintenance and keep those machines running for the foreseeable.
While sharpening your dull guillotine blades is a valid option, it will only be successful a limited number of times and is not a permanent fix. Regularly replacing your guillotine blades is essential for keeping your machines running smoothly and preventing downtime. 
You can order your replacement Simeron Guillotine Blades by contacting us today on 0114 233 5291 or emailing the team at [email protected] or continue reading to discover more. 
Guillotine Blades for Simeron Machines
The wear and tear that guillotine blades go through on a daily basis will quickly lead to dulling. To try and mitigate this as much as possible, most guillotine blade manufacturers, including ourselves, create guillotine blades using the highest quality steel available. We use selected grades from our wide range of tool steels to create long-lasting guillotine blades for Simeron machines.
Certain steel grades, like 420, A2, and D2 are favourable because of their high hardness values and their ability to retain a sharp edge for extended periods of time. Yet, guillotine blades can be made from any grade of steel. If you have special requirements or want to prioritise other physical or physical properties, then simply let us know! 
We have a wide range of tool steels to choose from, and our friendly team of experts are always on hand to answer questions and provide guidance. Use our live chat feature now, or contact us for more information.
We currently stock one size of Simeron guillotine blades with the following dimensions:
Which is the most common size of blade for Simeron guillotine machines. While they should be suitable for most Simeron branded machines, we always recommend double-checking the specifications of your machine first or contacting the manufacturer directly for more information.
If you're looking for a bespoke size for your Simeron guillotine blades, then please email our sales team at [email protected]. We love creating unique solutions for our clients, plus we have amassed an enormous library of machine drawings over the years, so whatever you need, we've got you covered.
Simeron Hydraulic Guillotine Blades
Simeron guillotine machines are incredibly popular across the metal and sheet working industries thanks to their long lifetimes and reliability. With the brand having been around for years, Simeron has earned its place as a household name in the industry.
However, most Simeron guillotine machines available today are sold as used and second-hand, which unfortunately places more importance on proper maintenance. Regularly replacing your Simeron guillotine blades will extend the life of your machine whilst also ensuring that high levels of accuracy are maintained in your work.
How often do Simeron guillotine blades need replacing?
We're often asked this question; however, it's extremely difficult to give a timeframe for how long your guillotine blades will last as it depends on so many factors. For example, the frequency of cuts being made, the types of materials you're cutting through and the thickness of the materials you're cutting through will all affect how long your blades remain sharp.
Rather than give a figure, we prefer to advise that you look out for the telltale signs of wear and tear, which will signal to you that your blades need replacing.
These signs include:
Failure to cut through materials you've cut through before

Longer time is taken to make cuts successfully

Noticeably poorer quality of cuts being made
If you've noticed one or more of these signs of wear and tear, then it's time to replace your guillotine blades. Order your replacement Simeron guillotine blades directly from Sheffield Gauge Plate by calling 0114 233 5291 or emailing the team at [email protected]. 
Looking for more advice? Then you're in luck! We created an entire article on Replacing your Guillotine Blades.
Can Simeron guillotine blades be sharpened?
Yes, the guillotine blades in Simeron machines can be sharpened, but only a few times. To help you keep your guillotine blades sharp for longer between replacing them, we offer a professional Guillotine Blade Sharpening Service; keeping your operations running for longer.
With this being said, it's vital to remember that guillotine blades can only be sharpened between 5-8 times on average, depending on the condition they're in. Any more than that, and your guillotine blades will be completely ineffective and require replacing.
Purchase Replacement Simeron Guillotine Blades
Have you noticed signs of wear and tear when using your guillotine machine? Then it's time to replace them! You can purchase your replacement Simeron guillotine blades directly from our trusted team today, with worldwide shipping available. 
Please feel free to discuss your requirements with a member of our team by calling 0114 233 5291, using our live chat feature or emailing directly at [email protected], and buy your replacement Simeron guillotine blades today from Sheffield Gauge Plate.
Frequently Asked Questions
Which brands do you provide guillotine blades for?

We manufacture and supply a wide range of replacement Guillotine Blades for the most well-known brands in metalworking machinery, including HACO, Pearson Edwards, AFM, Simeron and many more.

What are Simeron guillotine blades made of?

All of our guillotine blades, including those for Simeron machines, are produced using the highest quality tool steels available for high-performing, long-lasting blades.
Make an enquiry
Complete our form and we'll get back to you as soon as possible.