They are designed to be incredibly sharp and strong enough to cut through almost anything, but this makes it rather challenging to know when you should be replacing your guillotine blades. 
While they may still be functioning and slicing through paper and plastics with ease, your guillotine blades could be getting duller by the second. Worn blades can lead to excessive wear and tear on your machinery, as your machines may be working overtime to compensate for the dullness of the blades. 
This can lead to expensive repair jobs and downtime in your projects, resulting in a loss of profits and a potential loss of customers. 
It's easy to see that proper maintenance and an understanding of when to replace your blades are vital, so why is it such an undiscussed topic? To help you look after your guillotine blades properly, we've put together a guide on the signs of wear to look out for and how to replace them.
What are Guillotine Blades Used for?
Guillotine blades are a highly versatile piece of equipment used in a wide range of industries, including engineering, recycling, automotive, and fabrications. 
Common applications of guillotine blades include:
Finely slicing food products, including meats, fruit and vegetables, bread and other produce.
Cutting large volumes of paper and card stock precisely during manufacturing and printing processes.
Converting and recycling synthetic materials for re-use, including rubber and plastic.
Precisely cutting foil and film for packaging purposes.
What are Guillotine Blades Made from?
Guillotine blades must be strong enough to cut through high volumes of material in one slice but not too hard that they would shatter or crack upon impact.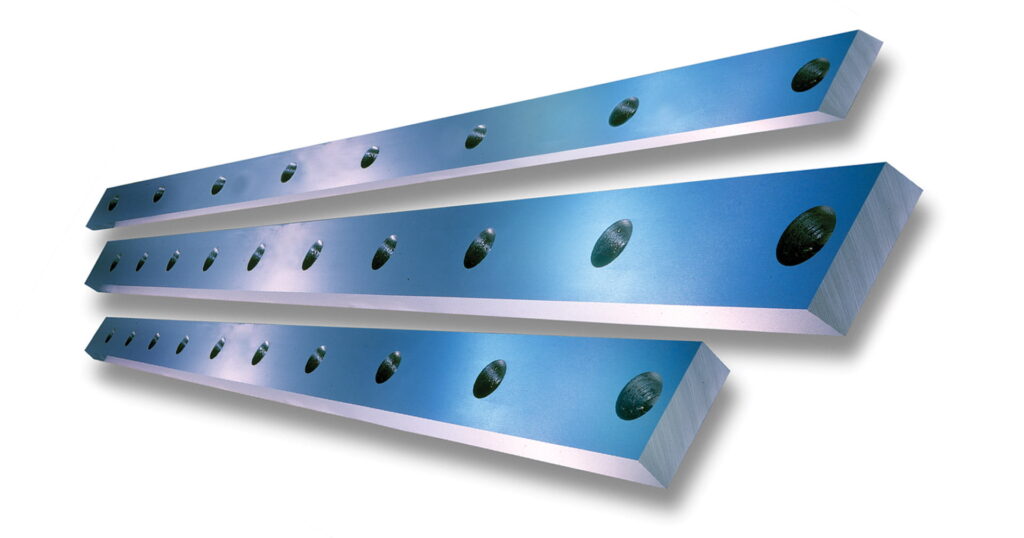 In order to cut through so many different materials in such high quantities, it's essential that the blades can hold a sharp edge for extended periods of time. Hence, quality edge-retention is a necessary quality. 
To meet these requirements, guillotine blades are most commonly made from high-quality steels or similar alloys, including tool steels, high-speed steel, tungsten carbide and hard alloy steel.
Signs your Guillotine Blades are Dull
The rate at which your guillotine blades dull depends entirely on the materials you are cutting. If, for example, you are only using your shear blades to cut small piles of ordinary paper stock, then your blades will last significantly longer than if you were cutting large piles of thick cardboard.
When assessing how long your guillotine blades are lasting on average, you must consider the material you're cutting and the impact this is having on your blades. For example, if you regularly cut metal and more challenging materials, your blades will need replacing more often than expected.
You should be able to notice when your guillotine blades are becoming dull, as they will begin to underperform. This will vary depending on the material you're cutting, but it should definitely be noticeable as time goes on. 
Look out for a reduction in the quality of your cuts, an increase in the time taken to make cuts successfully, and failure to cut through entire materials that the guillotine blades would previously have cut through. 
These are all telltale signs that your guillotine blades have dulled and require either sharpening or replacing. 
How to Replace your Guillotine Blades
If you've noticed any of the signs listed above when using your shear blades, then it's time to fix the problem. You've got two options here: sharpening the guillotine blades or completely replacing them.
Of course, sharpening the blades is usually the cheaper option of the two. However, sharpening the blades is not a long-term replacement and could end up costing you more money over time than simply replacing them. 
Replacing your guillotine blades is inevitable; even the highest grades of steel cannot hold their edges forever. Sharpening them can prolong their life, but it won't last forever. 
If you're looking to replace your guillotine machine knives, it's vital to find a trustworthy supplier that understands your requirements and has a wide range of guillotine blades to suit your needs. 
Here, at Sheffield Gauge Plate, we have a vast library of existing machine drawings available which can be used to provide the correct measurements and steel types for your machines.
Once you've got the correct guillotine blade replacement, you need to find someone suitable to fit it. Changing shear blades is a risky activity. Please ensure only fully trained, and experienced technicians carry out the replacement to avoid any injuries or damages. Once replaced, your machinery should be back up and running to its full capacity once again. 
So, now you know the signs of wear and dulling, make sure you look out for them to keep your guillotine blades and machinery running smoothly.
Do you have further questions about Guillotine Blades? Contact our friendly team of experts today on 0114 233 5291, email us at [email protected] or use our live chat feature for advice!