Sheffield Gauge Plate supplies and manufactures Granulator blades. We deliver to the UK and Worldwide.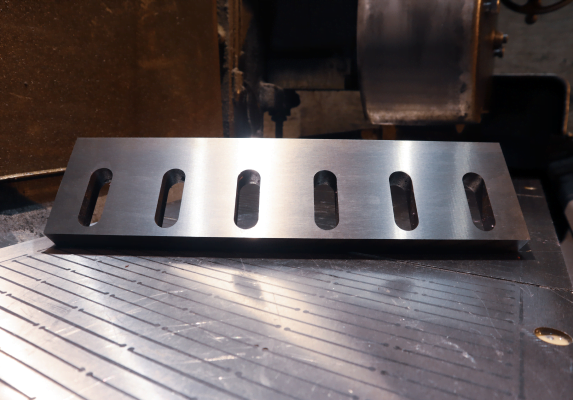 Granulator blades are what we do here at Sheffield Gauge Plate; our number one goal is to supply customers with stock that saves money and reduces downtime. Over the year, we've provided a vast range of different industrial machine knives and blades, which has led to us acquiring a massive library of drawings. You'll find that we have the largest selection of granulator blades in the UK, and can supply any machine.
All our granulator blades are manufactured from British and European tool steels, and we never import low-cost steel, so be assured that you're receiving the highest quality blade, every time. Furthermore, our modern hire work facilities allow us to provide granulator sharpening services to extend your granulator blades' life.
Can you manufacture bespoke granulator blades?
We're incredibly proud of our bespoke granulator blade capabilities. No matter the machine, size or drawing requirements, our manufacturing experience allows us to produce custom blades. You may even be shocked to find that we already stock your granulator blade, as over the years we've built up prominent relationships with companies in the demolition, recycling, construction, engineering and fabrication industries. Please contact us to learn more or to discuss your project.
What is the right granulator blade for my machine?
If you're looking for granulator blades, we stock and can deliver for machines such as Bruno, Conair, Dragon, Erema, Rapid, and many more. We understand that these machines often experience downtime, a costly problem for everyone involved. To combat this, we will always provide reliable granulator blades with the best lead times possible. Please call our experienced team on 0114 233 5291 or email at sales@sgpltd.co.uk to discuss the machine you require blades.
Request a quote for Granulator Blades
Or
Speak to us now. Call free on 0114 233 5291
Make an enquiry
Complete our form and we'll get back to you as soon as possible.