AFM Guillotine Blades Manufactured in the UK and Shipped Worldwide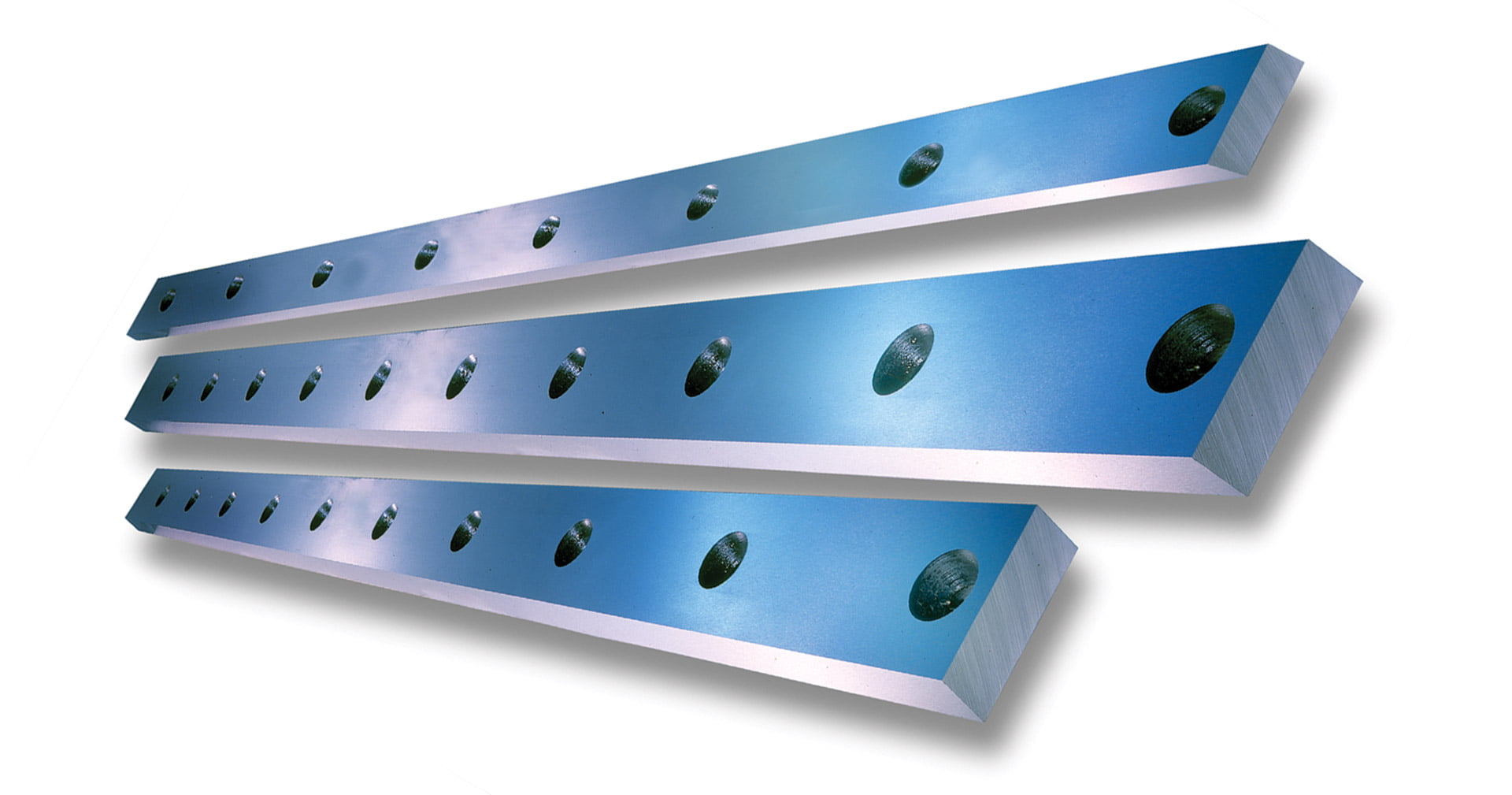 AFM Guillotine Blades
Here at Sheffield Gauge Plate, we're known for manufacturing and supplying a wide range of high-quality steel products, including AFM guillotine blades. With over 40 years of experience in the steel industry, you can be confident we have the knowledge and expertise you require to keep your machinery working efficiently.
Working in the steel working sector ourselves, we know how vital it is to keep your machines in good working order at all times. Machinery is a costly but necessary investment that requires regular maintenance to maximise its lifespan. But, of course, continual usage of the machinery will cause the guillotine blades to become dull, in which case they require sharpening.
While sharpening your guillotine blades is a valid option that's ideal for reducing downtime on your projects, it's not a permanent solution. Replacing your guillotine blades regularly will help keep your operations running smoothly and prolong the life of your machine. We stock a wide range of guillotine blades, including those for AFM machines, and we offer worldwide shipping – so wherever you're based, we've got you covered. 
Discover our AFM product range below, or contact us today for more information.
Guillotine Blades for AFM Machines
Guillotine blades go through a lot of wear and tear during their day to day use, so it's vital to use the highest-quality steel when producing them. Therefore, alongside our wide range of guillotine blades, we also manufacture and supply numerous tool steel grades. 
Typically guillotine blades are constructed using alloy-based tool steels like A2, D2, or 420, as these are known for their hardness and superior edge retention. All other tool steel grades are available, depending on which material suits your requirements most accurately.
If you're looking for a bespoke solution or are unsure which tool steel grade is most appropriate, speak to one of our experts today on 0114 233 5291 or use the live chat feature. 
We currently stock two different types of replacement AFM guillotine blades: 
AFM 3m x 6mm CHIPPER – 3120 x 50 x 20mm

AFM 3m x 6mm D2 – 3120 x 50 x 20mm
These are the two most standard guillotine blade sizes for AFM machines; however, we always recommend checking the machine's specifications first. Or, if you're still unsure, contact the manufacturer directly for advice.
If you have a guillotine machine that requires blades, then contact us today; on top of the guillotine blades we stock, we also have a vast library of machine drawings for various brands. We've provided bespoke solutions to hundreds of customers and businesses for over 40 years, and we're always up for a challenge.
AFM Hydraulic Guillotine Shears
Since 1975, AFM have been a trusted supplier of machinery and tools, making them a household name in the fabrication and metalworking industries. Selling both new and used machinery, AFM has seen deserved success over the past decade, growing into one of the largest suppliers of sheet metal equipment in the UK.
AFM's guillotine machines, like the MK6-31, are highly regarded in the industry thanks to their accuracy and efficiency. With simple, regular maintenance tasks like replacing your guillotine blades, your AFM machinery will continue to perform well for years to come.
How often do AFM guillotine blades need replacing?
There is no black and white answer to this question, as the time it takes for a blade to dull depends on several factors. These include the types of material you're cutting through, the thickness of said material and the frequency of use. 
All blades are the same; the more frequently you use them, the duller the edge will become – even with brilliant edge retention! In addition, AFM machines are used in the metalworking industry, which means the guillotine blades could be cutting through hundreds of sheets a day. 
Cutting through hard materials like metal sheets will dull your blades much faster than it would if you were cutting through paper or plastic, for example, which is why guillotine blades often need sharpening or replacing. The thickness of these metal sheets also varies, but the thicker the material, the faster the rate of blunting. 
It's clear that many factors will affect how long it takes for your AFM guillotine blades to go dull, so it's difficult to put a time frame on it. Instead, it's best to look out for the telltale signs of worn guillotine blades, including:
An increase in the time taken to make cuts

A decrease in the quality of the cuts made

Failure to entirely cut through a material
If you've noticed any of these signs while using your AFM guillotine machines, it's definitely time to replace them. Order your replacement AFM guillotine blades from us today by emailing the team at [email protected] to place your order. 
Please visit our helpful article, Replacing your Guillotine Blades, for more information.
Can AFM guillotine blades be sharpened?
All guillotine blades can be sharpened; in fact, we offer a professional Guillotine Blade Sharpening Service designed to do just that. Sharpening your guillotine blades is a fast and cheaper way to keep your projects running and prevent downtime when your blades become dull.
While sharpening your guillotine blades is a solution, it is only temporary. Typically, they can be sharpened around 5-8 times before needing to be replaced entirely; more than this, and the sharpening process becomes useless.
Purchase Replacement AFM Guillotine Blades
If you've found that your AFM guillotine machines are not cutting as cleanly as possible, then it's time to purchase your replacement guillotine blades today. 
Contact us today by calling 0114 233 5291, emailing the team at [email protected], or using the live chat feature to discuss your requirements. Our expert technicians and excellent customer service team will assist you in purchasing your new AFM guillotine blades today at Sheffield Gauge Plate.
Get a quote for your replacement AFM Guillotine Blades
Or
Speak to us now. Call free on 0114 233 5291
Frequently Asked Questions
Frequently Asked Questions
Which brands do you provide guillotine blades for?

We stock a wide range of replacement Guillotine Blades for numerous machinery brands, including HACO, Pearson Edwards, Simeron and many more.

What are AFM guillotine blades made of?

We create our replacement guillotine blades from the highest quality tool steel for long-lasting products you can trust.
Make an enquiry
Complete our form and we'll get back to you as soon as possible.